By Elizabeth Yeager Cross
WV Design Team
What a difference a day makes. Yeager Design & Interiors has brought you many recent articles on home staging. Our most recent installation was at the Creekside Cottages of the Sporting Club at The Greenbrier.
The seller, a native of Charleston, David Meyer, contacted YDI a few short weeks ago. A local real estate agent had referred David to our design firm, which set the wheels in motion to begin our staging relationship.
To begin the project, our team completed a site visit where we took dimensions, snapped pictures and made many lists that would later turn into our completed installation package. After reviewing all of the information, YDI and David completed a contractual agreement and we were officially hired for the job.
Monday was installation day. YDI was on the move and hit the road bright and early from our showroom in Scott Depot all the way to White Sulphur Springs. In less than two hours, our installation was perfectly positioned and ready for photographs.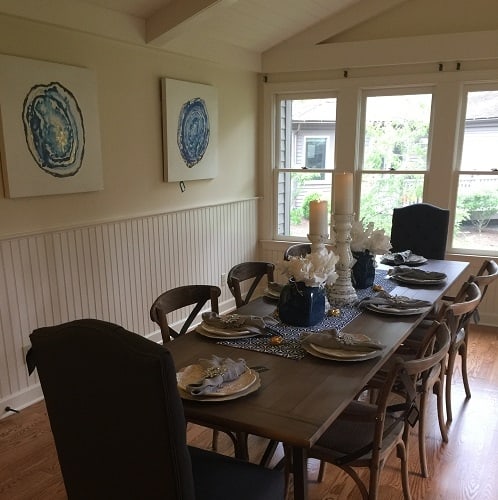 You never get a second chance at a first impression. With this being said, close attention was paid to the front porch of the cottage. An adorable existing turquoise porch swing was merely kicked up a notch by contrasting accent pillows and a cobalt planter with a Kimberly Queen fern. Now it's a warm and welcoming front entrance for any potential buyer.
After entering the front door, we paid close attention to the intimate foyer area. An antique tall chest was placed just beyond the door with an elongating Aubusson Blue mirror hanging above it. These exaggerated lengthy pieces would help draw visitors' eyes upward and pay attention to the expansive ceiling height.
Beyond the entrance, is the spacious great room. The abundance of light and height leaves this room feeling open and beautiful. To furnish this space completely, we first considered the scale of the room while also keeping in mind a neutral tone for a mass appeal. Blue seems to be the it color for the last couple of seasons in the design world. So it was a no-brainer for us to choose a pallet of gray, ivory, aqua, turquoise and cobalt.
A clean-line, 120-inch-long, dark gray sofa was installed as the anchor piece followed by a zinc-topped coffee table and accent chairs.
To highlight the feature-wall fireplace, we chose to hang an abstract canvas that pulled all of our blue-scale colors together. On the opposite wall, where there were two existing light fixtures, we installed a three-corbel server with adorable louvered mirrors hung above to give the room balance.
The most important spaces after the great room to address were the dining room, back porch and master suite. Our goal was to take the beautiful architecture and bring out its finest points with pops of color, appropriately sized furniture and personalization. The dining area featured an elongated, sleek table that showed off just how many people you could seat in this room for entertaining guests.
The back porch was simply dressed with a continuation of blues in outdoor furniture and pillows.
The master bedroom was highlighted with a king-size bed draped with luxurious bedding and pillows in grays and tans with a little bit of sparkle. Upon entering this room, any potential buyer can easily relate to feelings of rest and relaxation.
Yeager Design & Interiors is proud to have worked on this four-bedroom, four-bathroom home at The Greenbrier Sporting Club. When speaking with David about his former vacation home, he shared memories of his children's' visits through the years and of being able to bike to and from the resort safely and without worry.
He told us how wonderful the home had been for their family and friends and how easy it made it for them to spend quality time with loved ones.
We know the next owner of this home will enjoy it just as much and are thankful we could play a small part in that. If you are interested in this home or in staging services, please contact Yeager Design & Interiors for more information.
– To see more pictures of the project featured in this article: Home Staging or Meyer Home
– To read the full article: http://www.wvgazettemail.com/life-home